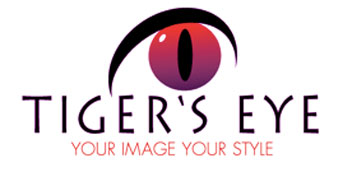 Mon - Sat: 10 a.m–5 p.m | Closed Sunday
49 East Main Street, Lititz, PA 17543
: Alembika : Banana Blue : Beyond Threads : Bitte Kai Rand : Boheme: Bryn Walker : Clemente : Crea Concept : Cut Loose : Eileen Fisher : ELA :
: Flax : Habitat : Inizio / Porto : Iridiun : Itemz : Jane Mohr / Dress To Kill : Joseph : Ribkoff :  Krazy Larry : Luna Luz : Lynn Ritchie : M Square :
: Matti Mamane : Neon Buddha : Niche : Noblu : OSKA : Pacific Cotton : Planet : Spanner : tyler böe : URU : Vanite Couture :Veeca : XIAO :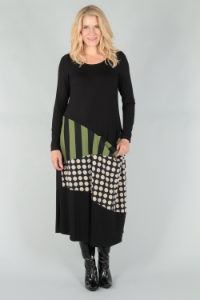 Alembika
View More
Alembika was founded in 2005 by two women, fashion designer Hagar Alembika, a graduate of the Shenkar School of Design, and Judith Fadlon PhD, an anthropologist. Alembika offers a collection suited to women of all ages, specializing in the middle and large size range, to which Alembika's layered look is especially flattering. The company is active in the design and manufacture of exclusive, high fashion clothing in Israel.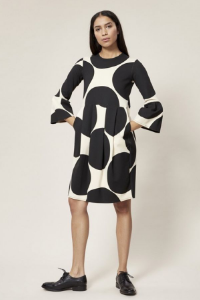 Bitte Kai Rand
View More
BITTE KAI RAND is an international fashion brand with a rich history in Scandinavian design.
The brand has a curious approach to the western worlds fast pace, and is recognized for its unique style based on the design concept, quality, functionality and comfort.
Fashion and design is meant to inspire and free you not control you, which is the essence in BITTE KAI RAND's design philosophy: 'A feeling to wear'
Every season you will find a new favorite knit in the collection along with new authentic prints and colors, elegant silhouettes and graphic details. The brand's pure and lavish play with different materials creates a richness that leaves every collection with an unpretentious and cool expression.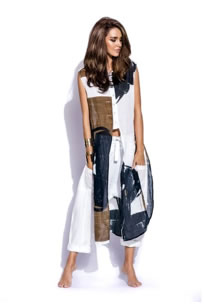 Banana Blue
View More
The label specializes in exclusive designer knitwear in luxurious natural yarns and original colors, and creatively shaped garment dyed linen, with attention focusing on soft fluid lines with contemporary details makes it ideal for the modern woman of all ages. Banana Blue unites edgy characteristics with classic, timeless pieces which provide diverse, beautiful ranges.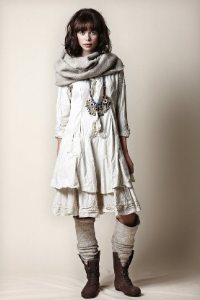 Boheme
View More
Boheme is something else…..It is a creative bohemian brand with a special look. A brand for a sophisticated lady who trust herself and knows how to wear something unique. When a lady wears those creative, flowing , soft and easy to wear clothes – she feels like an angel.
This collection has no age. It is the age you feel inside. The fabrics are of high quality and mostly natural fibers .Boheme is famous for its garment dyed linen fabrics which has been supplied for nearly 30 years now.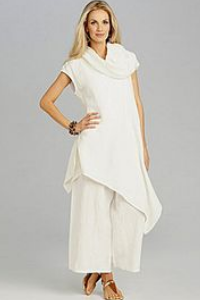 Bryn Walker
View More
The bryn WALKER Philosophy:Color, form and texture,  They gather lush colors for each new season,dye the highest quality natural fiber fabrics,and design simple, relaxed, honest garments.  Creating clothing for the way we live.  Practical, comfortable, and beautiful,  It's that simple.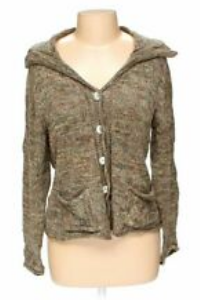 Beyond Threads
View More
Alpaca sweaters, coats, skirts, pants from Peru.  Women's line of clothing and accessories of sophisticated classics and original designs with a contemporary edge. With beautiful silhouettes and lightweight novelty materials — Beyond Threads ranges in Asymmetrical jackets, cardigans, skirts, shawl/wraps to pointelle ponchos in baby Alpaca.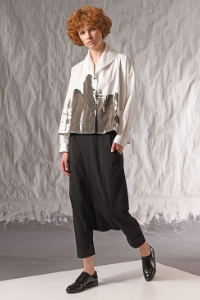 Crea Concept
View More
Crea Concept clothing was established in 1998 with the successful aim of becoming a high-end womenswear fashion brand that had a contemporary, stylish and modern look. Nowadays Crea Concept is continuously creating new innovative garments within their often out of the box thinking with the company emphasising the refreshing feel, modern art and urban culture within their creations and collections.
The materials and fabrics for their garments are selected with conscience precision with their final decisions in mind to ensure Crea Concept clothing maintains its high standard of quality and manufacture. Crea's seasonal lines enable the wearer to have a modern, unique yet comfortable aesthetic.
>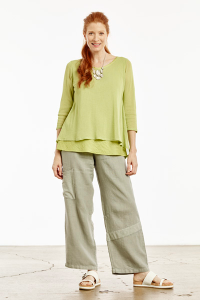 Cut Loose
View More
Today, Cut Loose remains a marriage between European and American strengths. The result: European styling and quality matched with American customer service and manufacturing capabilities. A California inspired casual lifestyle collection for the contemporary woman.
Women of all ages are attracted to the color range, comfortable, contemporary styling and value of Cut Loose clothing. Lifestyle fabrications of linen, cotton, tencel and rayon coordinate layers of sweaters, jackets, t-shirts, pants and skirts that become staples in a women's wardrobe.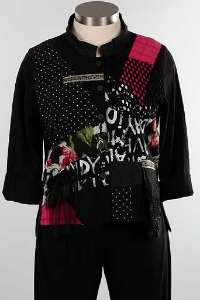 ELA
View More
I am an independent designer in the heart of New York City. 
My collections are contemporary lines, focused on art and pattern patchwork. The production of our line is manufactured in Flushing, Queens. With my team of amazing women, we specialize in creating one of a kind pieces.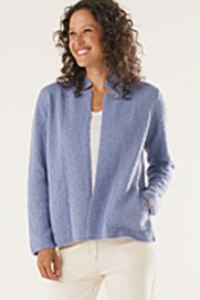 Eileen Fisher
View More
Simple. Sensual. Beautiful. Timeless. Functional.Great design is at the heart of EILEEN FISHER. It is an idea brought to life through clean lines, simple shapes and sensual fabrics. It strives to balance the timeless with the modern, function with beauty. It is an organic system, always evolving, changing, and building upon what's come before. Great design is clothing in context, made to fit both our bodies and our lives. It is a dialogue between seasonal perspectives and enduring ideals.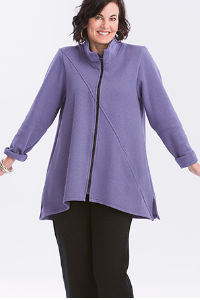 Fat Hat
View More
Each new idea we think up is made with a delightful sense of "Can this really work?"  …we always make sure we sew one strong thread of good humor into each new garment we make.  And if, one day when you are wearing our clothing, you break into an uncontrollable smile, perhaps it's because you touched that one strong thread that hold us together.  Bottoms, Contemporary Lifestyles, Pants, Related Separates, Soft Separates.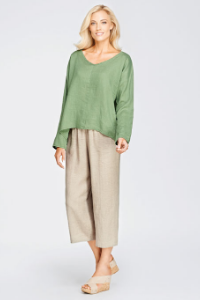 Flax Brand
View More
Flax offers uniquely exquisite styles to suit every body with sizes ranging from Petite through Generous 3. The majority of our collections utilize rich beautiful linens in a range of weights and colors, from dramatic to demure, to appeal to a wide range of tastes. For added convenience and ease, each preshrunk garment is easy to care for, washable & dryable. We also feature seasonal collections that incorporate Cotton, Rayon, Wool and blends to create casual elegant silhouettes that embody the playful jubilant nature of our designers.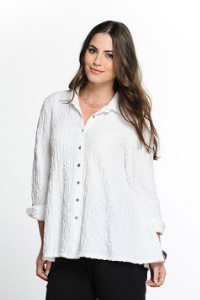 Habitat Clothes
View More
A New England company that features American made clothing with an easy-fit.  We have a great selection of quilted-corduroy vest that look great on everyone.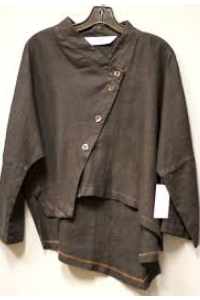 Inizio / Porto
View More
Casual European architectural dresses & sportswear feature relaxed dressing with natural fabrics in rich color palettes from Italy.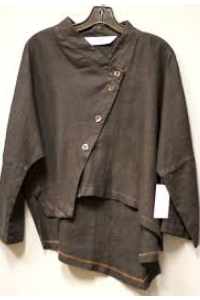 Itemz
View More
Itemz is a better contemporary line designed by West Coast designer Chris Baumgartner. The line styles are sophisticated, easy to wear, and fit just about everyone.The designs are influenced by the loosely constructed, comfortable clothing of other cultures, and re-interpreted to be contemporary, very "now".The garments play with the body. Although the basic lines are simple, even minimalistic, the clothes are timeless and powerful.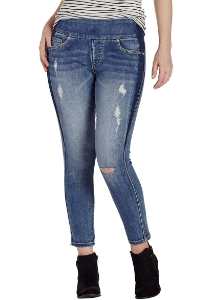 JAG Jeans
View More
The women who wear Jag Jeans is style conscious yet does not chase fads. She desires contemporary looks that fit her mature body. She constantly searches for the perfect balance of fit and fashion. She wants modern and distinctive: not too trendy but in style. She aspires to current looks. She seeks out quality products and appreciates subtle details. She shops in better department and specialty stores.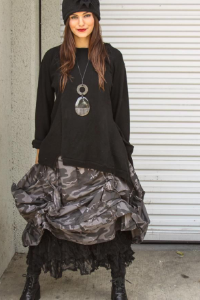 Jane Mohr
View More
Jane Mohr's designs are eclectic, fun and funky and her choice of exquisite fabrics make her designs stand above the rest! Most of her designs are One Size, unconstructed and can fit a variety of sizes and body types.  In these hard times clothing must be extraordinary – Dress to Kill is a really unique novel collection of exciting fabrics & must-have shapes.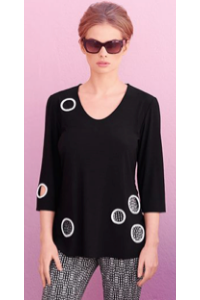 Joseph Ribkoff
View More
Since 1957 Joseph Ribkoff has been successfully designing collections for women around the world who lead busy lifestyles. The company and collections have been constantly evolving to meet the multidimensional needs of today's women. Joseph Ribkoff stands out as one of the leading designers in Canadian fashion industry for nearly 60 years and over 64 international markets.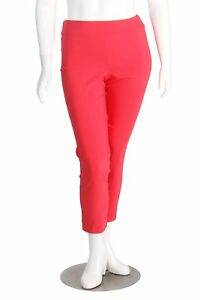 Krazy Larry
View More
Krazy Larry pants, made in New York, are considered the perfect pants. Customers trying them on say they are magic pants. The pants do not fade, bag or make muffin tops. Just machine wash and hang to dry.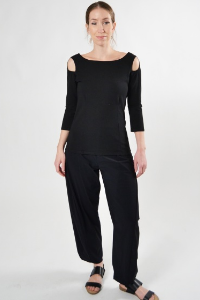 Luna Luz
View More
Luna Luz is designed in Spain and manufactured in the United States.  Luna Luz specializes in soft, travel friendly clothing with funky European inspired style.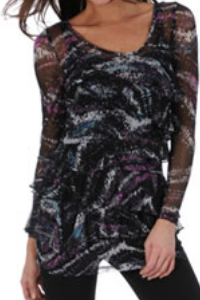 Lynn Ritchie
View More
The vibrantly colored prints of Lynn Ritchie add a bit of fun and whimsy to your wardrobe. Complimenting everything from jeans to business suits. "I always design my pieces with attitude," "The right fabric and fit, combined with an exciting or dramatic color, print or texture can have a profound affect on the way you feel. Dressing should be about so much more than comfort. It's a sensual experience."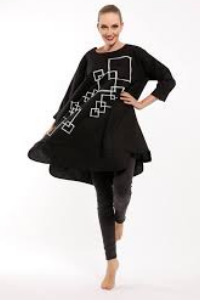 M Square
View More
An updated collection for a sophisticated mature woman – inspired by a stylish consumer looking for a comfortable wardrobe in mostly natural fibers & made in the USA.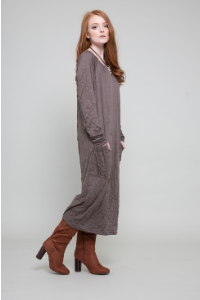 Matti Mamane
View More
Matti Mamane is an Israeli designer whose work is characterized by soft feminine lines and his devotion to fashion, comfort and a flattering fit.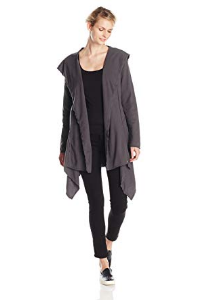 Neon Buddha
View More
Neon Buddha started with the idea of producing a lifestyle clothing collection for travel, home, work, yoga and you. the collection is Canadian designed and produced and managed by a team of 200 women in Chiang Mai, Thailand. our team and the environment have inspired us to make products that can be well worn for life's adventures and designed with a conscience.neon buddha's ethical work standards are fundamental and at the forefront of our management strategy. all of our staff has company paid health care including maternity leave. education is also a focus of ours. we offer paid continuing education which includes free English classes all staff, their family and friends. currently we have 2 staff completing their master's degree.  During the season any excess fabric is donated to several non-governmental organizations and women's groups where it is used in income generating projects.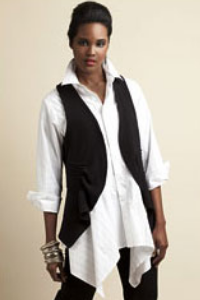 Niche
View More
Niche is the mother/daughter team of Nilgün and Ayse Derman. Nilgün, a native of Istanbul, Turkey, started the company in the early '80s as an art-to-wear line of intricate, hand-painted garments. She opened a little shop nestled among the trees in a little "niche" in Castle Hills in 1992, and began making ready-to wear and one-of-a-kind garments. Ayse joined her full-time after college, and together they shape the line into the feminine wearable collection it is today.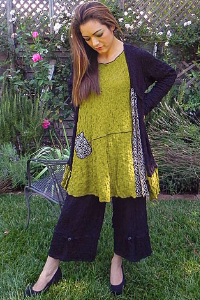 Noblu
View More
Once you own some of these pieces from Noblu, you'll want to order others. Comfortable and versatile, they can go from workplace to evening out with a simple change of accessories. They're that wonderful cotton with a hint of lycra so they travel well and can be machine laundered.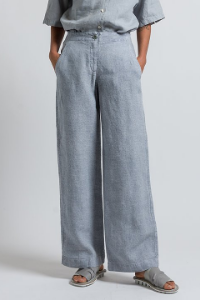 OSKA
View More
The German label Oska, established in 1997, places an emphasis on individual fashion away from the mainstream and short-lived trends. Their success is based on unmistakable design, high quality, and wearability. Designers work closely with manufacturers in Prostejov in the Czech Republic, a region with its own textiles heritage and a source of hard to find materials such as high quality leather, silk, and hemp.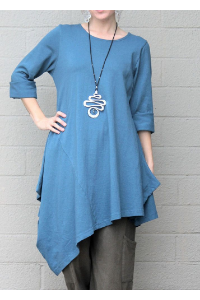 Pacific Cotton
View More
Fabulous pants & tees.  Easy to wear – great prices – washable – outstanding colors.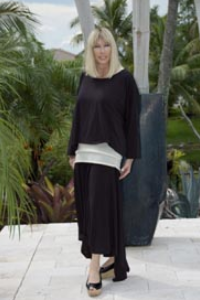 Planet
View More
Lauren Grossman, designer-owner of PLANET presents a creative collection of women's apparel which uses the finest natural fabrics. Lauren works with Irish handerkerchief linen, Pima cotton, washed silk and washed silk organza. The palette consists of soft hues of natural elements, such as sea, fog, putty and lots of white on white. The silhouettes are soft and flowing. The shapes are Japanese inspired which are loose and away from the body. Together the fabrics and the body styles enhance everyone's figure. This line of clothing is size-less, season-less, and age-less. Comfort along with style is synonymous with PLANET.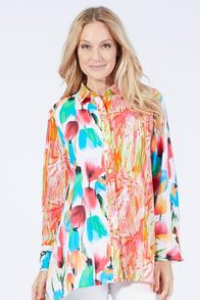 Pleats
View More
Pleats Collection by Pings Imports is made from 100% polyester and are permanently pleated for easy care and a wrinkle-free look!
Their line has been a well-known brand in Europe and Japan for the last ten years. Several years ago, the line expanded to the United States and has experienced tremendous growth based on its popularity with consumers.
Pleats Collection is designed with the consumer in mind: Easy Wear, Easy Care. All garments are washable- NO ironing, NO dry cleaning bills- just simply wash in cold water and lay flat or hang to dry. Travel is a breeze with Pleats. You can pack a multitude of mix and match outfits in a small amount of space and look beautiful your entire trip without any extra care!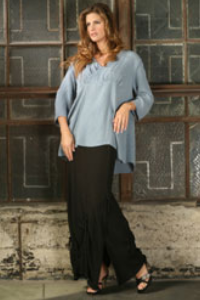 URU
View More
Exquisite, One of a Kind, Hand-Dyed Clothing…..as unique and original as you are.  These clothes are designed to make you look good and feel stunning.  They are creative, often whimsical, sensual and extremely comfortable.  Made with beautiful natural fabrics, usually silks, linens and fine rayon's.  They are easily washable and travel well.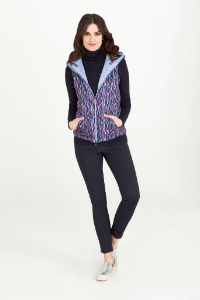 Spanner
View More
Tiger's Eye carries leggings by Spanner. SPANNER is an established international, lifestyle brand that continues to offer the fashion savvy customer a timeless collection of modern, stylish sportswear. For the discerning woman who expects trend right, market driven styling, exceptional quality, and a fit that flatters real women.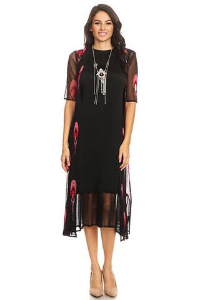 Vanite Couture
View More
Dresses and separates in tantalizing textures created from layers of crystal pleated fabrics. Think of it as wearable origami art. Beautiful crystal pleated items that will be sure to turn heads. Many colors. Several styles but no worries in choosing the size. Everything comes as one size only.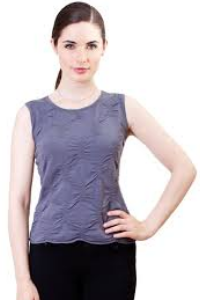 Veeca
View More
Soft, easy shapes – seasonless fabrics and knits – day into evening. Soft knits in smokey shades and easy but defined shapes. Always innovative – always new! Veeca dresses eliminate the stress of finding the "right dress" by providing women with beautiful, flattering clothing. The classic cuts of Veeca dresses flatter almost all body shapes and sizes.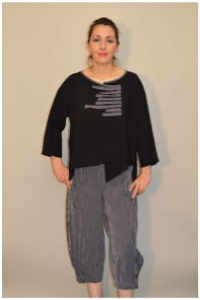 XIAO
View More
XIAO is a wearable art clothing line made in San Francisco designed by Cynthia Chow. The look is fresh, artsy, detail oriented, classy and versatile for the sophisticated woman who has a sense of style. Inspired by unique fabrics, artistic trims and buttons, Cynthia creates an exciting collection of unstructured shapes, asymmetric lines and edgy "Art to wear".
Tiger's Eye is a rare and captivating find in historic LItitz featuring beautiful clothing, wearable art, unique accessories, and expert personal service
Our store began as merely a dream in 1995 and became a reality in September of 1996. Nadine had worked for a large
regional department store for 30 years, serving as its accessories buyer. Following a company downsizing in 1995, she spent
much time evaluating her options and, through the encouragement of family and friends, the concept of The Tiger's Eye was
born.